THIN, LIGHTWEIGHT & COMFORTABLE DESIGN
Stay comfortable all day, during workouts, sleep and more with a thin, lightweight design that sits more naturally on the wrist.
WATCH YOUR WELL-BEING
Track key health metrics like blood oxygen (SpO2) & heart rate variability to help illuminate changes in your wellness so you can adjust your routine to better support your health. Check your heart rhythm on demand for atrial fibrillation, a heart rhythm irregularity, with the compatible ECG app.
ALL-DAY BODY-RESPONSE TRACKING
Using a cEDA sensor, identify signs of stress, excitement, caffeine and more. Identify your triggers and take action to manage your stress in the moment. Get a handle on your stress with a stress management daily score showing how your body's handling it—add Premium for a detailed breakdown of what's driving your score & various mindfulness options. There are also weekly stress summaries to check-in on your stress-management efforts to help you identify causes of stress, successful management techniques and what to try next.
SLEEP PROFILE PREMIUM & SLEEP SCORE
Learn how to get better rest with Sleep Profile. Get matched with a sleep animal, and see a personalised analysis of your sleep every month. Understand your sleep quality with a personalised Sleep Score, and see a breakdown of your time in light, deep & REM sleep.
ACTIVE ZONE MINUTES
Get the results you want from every workout. Active Zone Minutes uses your heart rate to guide you toward your desired intensity level—then helps keep you there.
DAILY READINESS SCORE PREMIUM
Optimise your routine with Daily Readiness, a score using insights from your body so you can see whether you're ready to work out or should prioritise recovery.
HEALTH METRICS DASHBOARD
Know your body better by tracking SpO2, skin temperature variation and more. Watch your trends to help discover potential changes in your well-being.
ON-WRIST BLUETOOTH® CALLS & TEXT NOTIFICATIONS
Answer calls right away on Sense 2 using the built- in mic and speaker, and read texts at a glance on your wrist. Available when phone is nearby.
BATTERY & FAST CHARGING
6+ day battery life keeps you going longer—plus get 24 hours of charge in only 12 minutes.
VOICE ASSISTANT
Use Amazon Alexa Built-in to get quick news and weather, set bedtime reminders and alarms, control your smart home devices and more—just by speaking to your watch.
40+ EXERCISE MODES & BUILT-IN GPS
Access multiple exercise modes like skiing and golf while seeing stats in real-time. With built-in GPS, see live updates of your pace & distance during outdoor activities.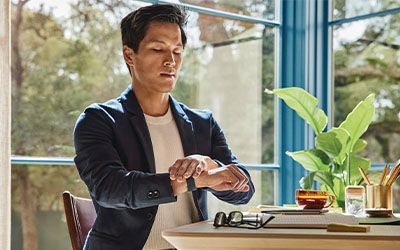 GOOGLE WALLET & MAPS
Access Google Wallet to pay on the go and Google Maps for turn-by-turn directions.