The Apple M2 chip was introduced at Apple's WWDC 2022 keynote on June 6, and it is the first chip in Apple's second generation of custom silicon.
This is significant because the M2 is an evolution of the outstanding M1, which debuted in 2022 and powers Apple's new 13-inch MacBook Air 2022 and MacBook Pro 2022. It's exciting to see what an M2 injection can do for the successors to two of the best MacBooks on the market.
With that in mind, here's what we know so far about Apple's M2 chip.
Top new features and improvements in the Apple M2 chip
The remarkable M1 8-core CPU and up to a 12-core GPU in a new 5-nanometer chip with performance improvements over M1
Apple claims that the M2 has 25 percent more transistors than the M1.
Supports unified memory bandwidth of up to 100 GB/s.
Up to 24GB of unified memory is supported.
16-core Neural Engine with M1 Neural Engine improvements Capable of playing back multiple streams of ProRes 4K/8K video
Apple M2 chip specifications
Apple's new M2 chip can be configured with an 8-core CPU and a 10-core GPU. This is an improvement over the original M1, which could be configured with an 8-core CPU and an 8-core GPU. It cannot, however, compete with the core counts of the beefier M1 Pro and M1 Max chips, which have 8-10 CPU cores and 16-32 GPU cores.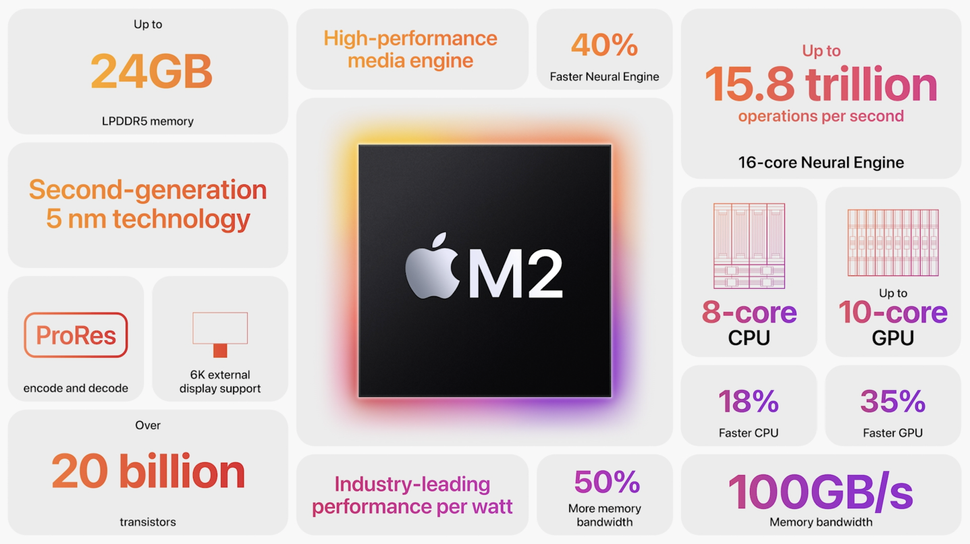 (Image credit: Apple via YouTube)
However, Apple claims that the M2 chip has up to 18% higher multi-core performance than the M1. We'll have to put that to the test, but if it's true, it's great news given how the M1 chip wowed us with its remarkable combination of fast multi-core performance and power efficiency.
The M2, like the M1, is equipped with a 16-core Neural Engine. The M2's Neural Engine can process up to 15.8 trillion operations per second, which Apple claims is more than 40% faster than the M1.
Apple claims that the M2 chip can deliver up to two times the performance of the M1 chip while using half the power.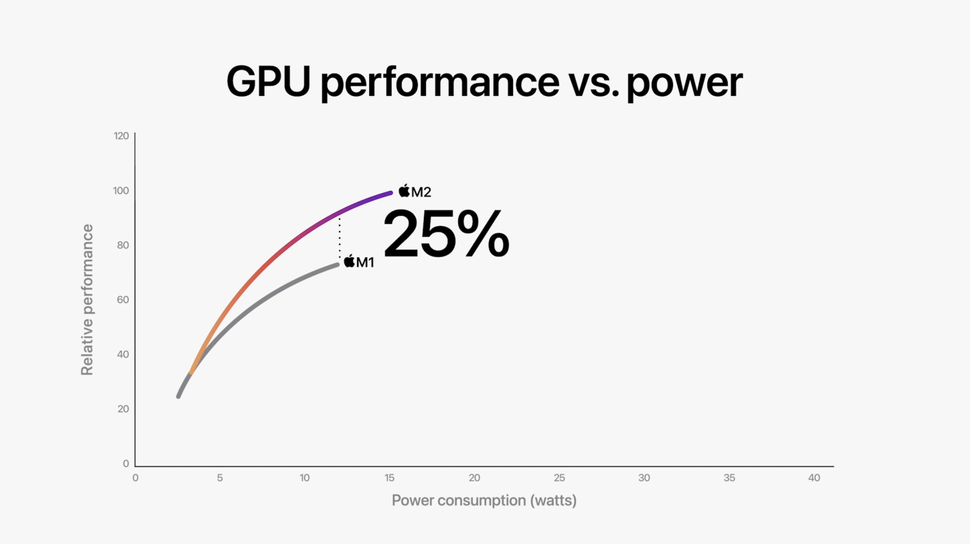 (Image credit: Apple via YouTube)
That would be a significant improvement in performance and power efficiency, supporting Apple's claim that the M2-powered 13-inch MacBook Pro 2022 can provide up to 20 hours of video playback on a single charge.
The M2 also includes a new media engine capable of decoding up to 8K HVEC and H.264 video, as well as playing back multiple ProRes streams in 4K and 8K.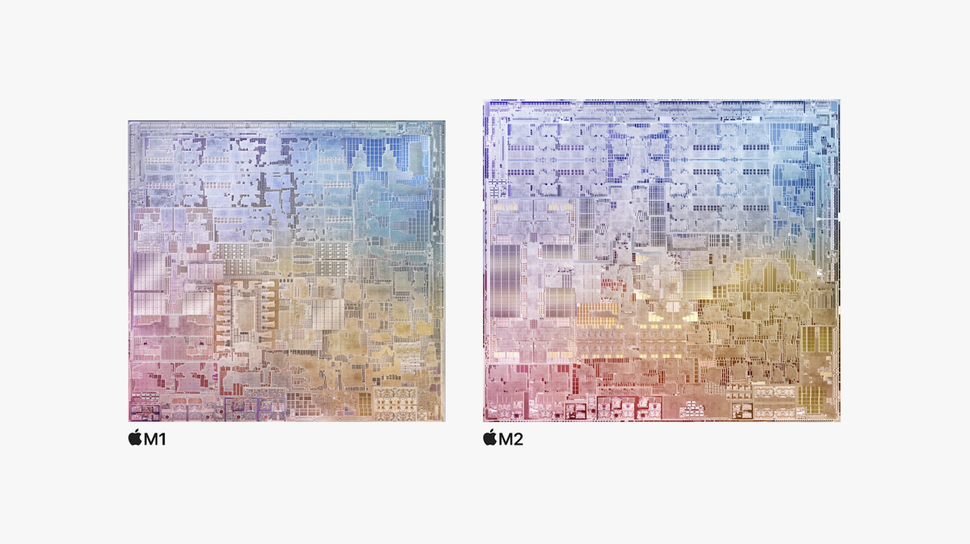 (Image credit: Apple via YouTube)
Apple also claims that the image signal processor (or ISP) in the M2 chip is significantly improved over what was available in the M1, so it should help you look your best during video calls.
Performs well in groups.
macOS and M2 collaborate to increase the speed and responsiveness of all your favorite apps, including Microsoft 365 and your favorite iOS apps. Over 10,000 apps and plugins have already been optimized for Apple hardware. Rosetta 2 also seamlessly converts apps designed for Intel processors to run on your MacBook Pro.
A mobile editing station.
The M2's high-performance media engine can encode and decode ProRes files. As a result, you can play and edit up to 11 streams of 4K ProRes video and up to 2 streams of 8K ProRes video, including 4K ProRes video shot on the iPhone 13 Pro. 12 And it converts projects to ProRes up to three times faster than before.
The MacBook Pro.
Definitely yours.
The M2 chip and macOS provide security and privacy features unrivaled in the MacBook Pro class. With builtin malware and virus protection, the freedom to choose what you share and how you share it, and siliconlevel features like Touch ID and Apple Pay, it's designed to protect your privacy and data at every stage.
Connectivity
Make some connections. Faster than ever before.
High bandwidth meets extreme versatility. Thunderbolt allows for data transfer, charging, and video output all from a single port, and the MacBook Pro has two of them. As more devices join the network, Wi-Fi 6 keeps the MacBook Pro running strong. Furthermore, the headphone jack supports highimpedance headphones.
The fact that Apple has finally released the successor to 2020's industry-shattering M1 chip is exciting, particularly if you're a Mac fan looking for a new 13-inch MacBook. The M2 chip appears to be a mid-level piece of Apple silicon that will outperform its M1 predecessor while not matching the heights of the most spec'd-out M1 Max. We'll have to test one for ourselves to be sure, and we hope to do so later this summer.